Introduction
Mount Kailash, situated in the Kailash Range, in the western part of the Tibetan Plateau on the borders of China, Nepal & India.
Situated at an altitude of 6,714 m (22,028 ft) and located close to Lake Manasarovar and Lake Rakshatal. Mount Kailash is considered sacred in four religions: Hinduism, Buddhism, Jainism and Bon.
According to Hindu Mythology, it is recognized as the adobe of Lord Shiva, who resided there with his consort goddess Parvati and their children.
"Conventional wisdom says a single circuit of Mt. Kailash wipes out the sins of a lifetime, 108 Parikramas guarantees enlightenment. A ritual bath in the sacred Mansarovar Lake delivers pilgrim to Brahma's paradise and a drink of its water relinquishes the sins of hundreds of lifetimes."
Route Map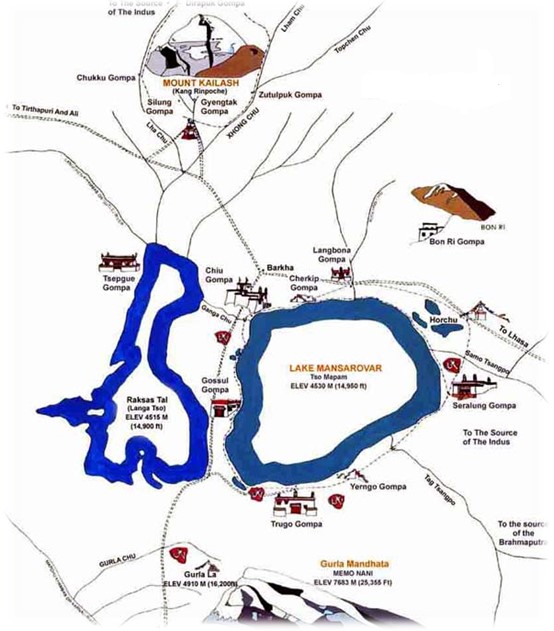 Itinerary
Day 01:

Arrival to Kathmandu and transfer to Hotel. Evening: Briefing about Kailash trip.

Day 02:

Morning visit Pashupatinath and Yatra preparation and fly to Nepalgunj.

Day 03:

Morning fly to Simikot [3000m]. Afternoon visit Shiva Mandir.

Day 04:

Fly to Hilsa [3700m] and drive to Purang [3800m]. Day at acclimatization.

Day 05:

Drive to Manasarovar Lake [4500m]. Start Parikrama of Mansarovar- 105km and Holy Bath, Puja etc.

Day 06:

Morning free and after lunch drive to Darchen.

Day 07:

Drive to Yam Dwar and trek to Diraphuk.

Day 08:

Trek over Dolma La pass [5550m] and to Zuthulphuk.

Day 09:

Trek to Tungla and drive back to Purang to Hilsa.

Day 10:

Fly to Simikot – Nepalgunj – Kathmandu.

Day 11:

Drive to airport for final departure.
What's Included / Excluded?
Included
Assistance by 'Real Tour Nepal' representative.
02 Nights' accommodation at Hotel in Kathmandu on AP plan (pure veg. meals).
01 Night accommodation in Nepalgunj on AP plan (pure veg. Meals).
01 Night accommodation in Simikot on AP plan using dormitory (pure veg. Meals).
06 Nights' accommodation at Hotel/Guest houses in Tibet on AP plan (pure veg. Meals).
Schedule flight Kathmandu/Nepalgunj/Kathmandu.
Schedule flight Nepalgunj/Simikot/Nepalgunj.
Charter helicopter flight share by 5-6 person Simikot – Hilsa–Simikot.
Transport by Tourist Bus up to Mansarovar and Eco-Buses from Masarovar to Darchen Yamdwaras as per group sizes/Truck for Luggage.
Nepali Team Leader and Supporting Sherpa Team.
Medical Insurance of staffs.
English speaking Tibetan guide.
Chinese visa fee of client and staffs.
Vegetable Indian meals during the trip and Guesthouses and camping charges in Tibet.
Duffel Bag (a large bag to keep the Yatris luggage for the trip).
Gore-Tex Jacket (returnable-trip).
All camping and cooking equipment.
Yak for Kailash Parikrama luggage only.
All entrance and conservation fee of Tibet.
Upper Humla permit fee for client and Helicopter landing.
Gamow bag oxygen and oxy- meter for safety.
Sightseeing tours and transfers in Kathmandu by private vehicle (fully air-conditioned).
Services of local English-speaking guide in Kathmandu during the tour.
Entrance fees to monuments as mentioned in the itinerary (subject to change if once revised).
Yak & Yak man during Kora.
All airport transfers as per the itinerary.
All currently applicable taxes including Service tax.
Note: From the Mansarovar to Kailash; all the private vehicles are not allowed. Your transportation shall be carried by Eco-Bus.
Excluded
International airfares.
Nepal visa fees & immigration assistance.
Any beverages including mineral water, soft drinks, alcoholic drinks etc unless otherwise specified. It is more cost effective for us to bill you for all beverages based on actual consumption.
Any items of a personal nature such as laundry, telephone calls etc.
The prices do not include: undue escalation in fuel prices, new taxes levies on hotels and transportation services or any hikes in entrance fees. Any large tax hikes and new levies shall be payable extra and shall be billed accordingly with prior notice.
Rescue and emergency cost.
Horse cost for personal riding during Kailash Parikrama.
Any other items not mentioned in the cost inclusion section.
Tipping amount.
Insurance
Note: Itinerary is subject to change due to unavoidable circumstances.
Gallery